My clitoris is awfully picky. One day it needs ultimate phenomenal power, but the next day, it requires a sensual massage and no vibrations. It's moodier than I am when I'm plagued by pms. So while the We-Vibe Touch is a remarkably good toy, my clitoris would like to say otherwise, and yet I still force the Touch on my clit every chance I get.
There is no doubt in my mind that this toy is exceptional. It is made from beautifully soft silicone, it is 100% waterproof and it has truly awesome power for such a tiny thing.
But for some reason, after using the We-Vibe Touch for a little while, I start getting frustrated because it doesn't always get me to climax on vibrations alone.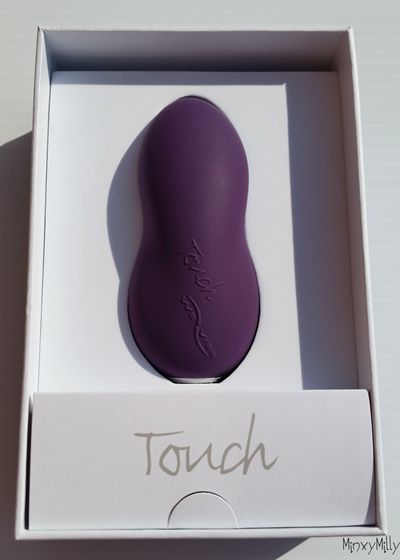 For example, I had already orgasmed once by using my Mystic Smart Wand and I wanted to go for round two almost straight away, and I brought out the We-Vibe Touch. I can usually orgasm fairly quickly after already having another orgasm, but the We-Vibe Touch just wasn't getting me there.
I did eventually come but only after I started furiously flicking the toy back and forth like no tomorrow. Which brings me to the best feature of this toy, the pinpoint stimulation. The end is rounded to a soft tip with a slight curve. It covers my clitoris perfectly, while still being small enough that I can move it slightly to the left or the right, or even up and down and it will reach the part of my clit that requires all the attention.
But I do find it will take me longer to orgasm with the We-Vibe Touch than if I used my fingers, or a wand type toy. It's not as powerful as my Mona 2, or my Lelo Smart Wand, but it is powerful for a clit vibe, and gosh darn it, that pinpoint stimulation makes the toy so body friendly that I don't mind spending the extra time to play with it.
If it was flatter it would be great to use during intercourse. I find that it can dig into the body during certain positions and can cause discomfort. However, this is just from my own personal experience. You may find your bodies are more compatible and have a grand time with the We-Vibe Touch during sex.
The We-Vibe Touch has eight vibration modes, all of which are really fun to play around with. My favourite being the wave pattern. Starts low, goes high and then back down to low. The Touch has 4 steady vibration modes, low, medium, high and ultra, all of which are surprisingly quiet. I usually leave my Touch on ultra and then have at my clit till it's almost red raw. The patterns themselves are fairly enjoyable. With four different kinds, you can find a pattern to really suit your own needs. The four patterns are Tease, Wave, Pulse and the Cha-Cha, which is quite humorous as I kept picturing people dancing while I had the Touch against my body.
The single button on the bottom of the toy turns it on and off and goes through each of the patterns. I found the button to be easy to reach, but out of the way enough that I won't push it accidentally. If you turn the toy off by holding down the button for a few seconds, then turn it back on, it will remember what vibration mode it had been buzzing on. This is handy if you become interrupted and want to continue. This is also where you charge your toy via a USB magnetic cable. The magnetic charging cable tends to be a bit fiddly, so you have to sit the vibe on a flat surface so that the cable doesn't disconnect. It isn't a very strong magnet unfortunately.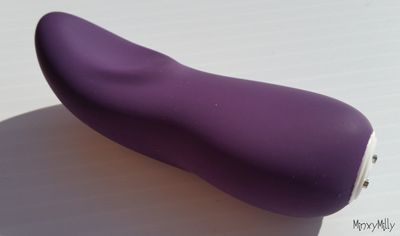 As for quietness, I tend to test my vibrators on a few factors. Can I hear it while the house is generally noisy? No I cannot, especially not with the dishwasher, washing machine, heater, TV and several computers on. Can I hear it when my house is quiet? Still no. I sat the Touch on my bed while it was on the highest setting, I shut the door and stood outside, straining my ears. I couldn't hear it at all. I see that as a good sign.
Pro's:
- Exceptional Power
- Pinpoint stimulation
- Small ergonomic shape
- Super quiet
- Medical Grade Silicone
- USB Rechargeable
- Waterproof
- Battery Low indicator
Con's:
- Takes me a little while longer to orgasm than usual
- Storage bag feels tacky
- Magnetic charging cable is finicky and doesn't stay connected properly.
- Doesn't last for the 2 hours of playtime on high. More like just over an hour.
- It only comes in the one purple colour
- Price tag might be too expensive for some
The We-Vibe Touch is a great toy. It's a little on the pricey side, but considering how remarkable it is, I'm glad I got it. It's great to take on holiday, doesn't look like a sex toy, so that's a plus if you go through customs or have curious friends/family/children. The Touch is a great little vibe and I will still find myself using it for those longer and more intimate play sessions.
Places to Buy in Australia:
lovehoney.com.au
adultshop.com.au
naughtybutnice.com.au