We-Vibe 4 Plus: The iPhone-controlled vibrator you can turn on from anywhere!
Running errands doesn't have to be boring — just ask Amanda Chatel.
The 36-year-old writer recently went out to pick up her laundry, stop by the chemist and grab a drink at a local bar — all while wearing a new vibrator called the We-Vibe 4 Plus.
Because it can be controlled remotely by an app, her husband — back at their apartment — turned it on and off as she went about her errands.
"[It] reminded me of my first Brazilian wax. I was overly aware of that part of my body, and felt like I was walking sex. But the difference was that I clearly remember strutting after my first Brazilian, and We-Vibe doesn't allow for such a swing of my hips," recalls Chatel.
"I felt too much swing would result in it falling out of place, down my pant leg and onto the ground. Then I wouldn't feel like walking sex anymore, but instead a horrified woman staring at her vibrator on the sidewalk."
Sex toys are not just for singles — or the bedroom — anymore. The We-Vibe 4 is not the first of its kind — other vibrators, like Oh-MiBod, can be remotely controlled by app as well.
But it claims to be the first hands-free device out there — it can easily fit under clothing — so now, anyone can get those good vibrations going, even when they're not in the same room as their partner.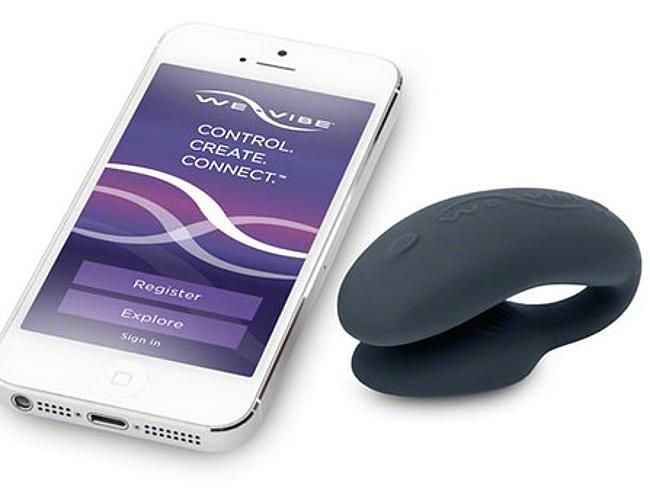 To access it, both partners download the free We-Vibe 4 Plus app from the iTunes App Store and register the vibrator. When your partner asks to connect, you can send him or her a link that enables them to control the device. He or she can choose from various vibrations, such as "peak" or "bounce." The U-shaped toy is just three inches (7.5cm) long and costs $179 USD ($210 AUD).
Although Chatel and her husband bought one only a few weeks ago, the East Village resident says the We-Vibe 4 Plus has already added a certain buzz to her everyday tasks.
"First [we] tried it together in the apartment with the remote control," she says. "Then, we added the app to the mix and started experimenting with how far away I could go."
"It's especially great in long-distance relationships," says We-Vibe's global passion ambassador Tristan Weedmark. "If you're in New York and your partner is in Taiwan, it can boost intimacy."
Relationship expert Andrea Syrtash agrees. "Dirty talk, video chats and photos can turn on a couple who are trying to stay connected from a distance," she says. "But the We-Vibe adds another — very physical — dimension."
Using the app can also allow your significant other to take control — and experience the thrill of doing something naughty in public — without risking being too obvious.
"As we saw with the appetite for 'Fifty Shades of Grey,' people are interested in trying new things," Weedmark says. "Couples [can] bring foreplay into their dinner dates. The female will wear the We-Vibe [at a restaurant], and her partner will control it on the app."
But if you dare to adopt this approach, choose your timing carefully. "Don't turn the app on and off when one of you is in a business meeting or a public place where it may be a little uncomfortable — or unprofessional," cautions Syrtash.
Indeed. "When picking up my laundry, it was turned on and it was slightly audible," Chatel recalls. "I passed it off as my phone, because I felt I had to say something."
And, she adds, "Snug undies help."
Originally Published by
New York Post.
October 12, 2014
Base note from Sex Toy Reviews Australia:
Of course with a little bit of a search on Google or Bing (or your prefered browser), it is simple enough to find this product for under $210 AUD. In fact for under $170 from these 3 Aussie stores!
(*correct as of publishing date)
wevibe-australia.com.au
kanoodle.com.au
aphroditespleasure.com.au